DBS&A at Texas Groundwater Summit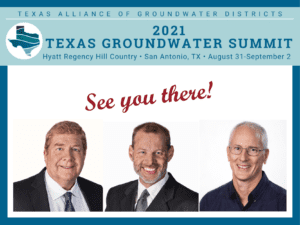 DBS&A's groundwater professionals—Andrew Donnelly, PG, Paul Kirby, PG, and Kevin Hopson, PG—will discuss emerging trends and new research in groundwater management at the Texas Alliance of Groundwater Districts (TAGD) Texas Groundwater Summit taking place August 31, 2021 to September 2, 2021 in San Antonio, Texas. With expertise in aquifer storage and recovery (ASR), groundwater/surface water interaction, and aquifer mapping and modeling, DBS&A's water resources professionals assist groundwater managers throughout Texas with managing groundwater resources.
DBS&A's Austin office has been providing water resources and environmental services to state, municipal, and private clients since 1999. We assist water-management agencies across Texas in the analysis of water resources.  For the Texas Water Development Board (TWDB), we have developed multiple groundwater availability models (GAMs), completed several projects developing the geologic structure of aquifer systems, conducted a statewide evaluation of the potential for artificial groundwater recharge, and completed the groundwater portion of a regional water planning study for the Lower Rio Grande.  For water providers, we have completed multiple groundwater supply and management studies; permitted, designed, and constructed high-capacity municipal well fields; and investigated brackish groundwater sources.  For groundwater conservation districts (GCDs), we have provided technical support for permitting, conducted detailed hydrogeologic studies, and assisted with the development and evaluation of Desired Future Conditions (DFCs) and the related modeled available groundwater (MAGs).
DBS&A has assisted many groundwater management areas (GMAs), groundwater conservation districts (GCDs), and Underground Water Conservation Districts (UWCDs) in Texas, including GMAs-1, -2, -3, -7, -12, and -15; Blanco-Pedernales, Central Texas, Fayette County, Goliad County, Kenedy County, Kimble County, Lone Wolf, Lost Pines, North Plains, Northern Trinity, Pecan Valley, and Texana GCDs; Evergreen, Gonzales County, Hemphill County, Hickory, Live Oak, Mesa, Permian Basin, South Plains, and Sutton County UWCDs; and the Colorado River Municipal Water District.
Learn more about our water planning and development capabilities here. 
https://www.dbstephens.com/wp-content/uploads/2018/11/DBSA_Official_Logo-w-Geo-Logic-Co-300x78.png
0
0
db_stephens_admin
https://www.dbstephens.com/wp-content/uploads/2018/11/DBSA_Official_Logo-w-Geo-Logic-Co-300x78.png
db_stephens_admin
2021-08-27 09:21:11
2021-08-27 09:21:11
DBS&A at Texas Groundwater Summit