DBS&A at Oka' Sustainability Conference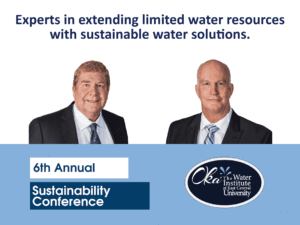 DBS&A's water resources professionals—Kevin Hopson, PG, and Russell Perry, PG—will be available to discuss water issues and ways to ensure water sustainability during the Oka' Sixth Annual Sustainability Conference taking place September 21 to 22, 2021 in Ada, Oklahoma. With expertise in groundwater management, development, and infrastructure, our professionals assist water managers with planning and managing their water resources.
DBS&A has been working with state and local governments, water districts, and private water companies to assist with making the best use of limited water resources since the 1980s. We assist with water planning, optimizing well designs and other supply infrastructure, evaluating and developing solutions to address brine and residual disposal in the desalination process, mapping and modeling water resources, developing tools for visualizing and managing water resources (e.g., use, permitting, compliance), and extending limited water resources with well-managed water recycling, reuse, and recharge programs for conjunctive management of surface water, groundwater, and recycled water resources.
Learn more about our water planning and development capabilities here.
For more information on the event, click here.
https://www.dbstephens.com/wp-content/uploads/2018/11/DBSA_Official_Logo-w-Geo-Logic-Co-300x78.png
0
0
Sandra West
https://www.dbstephens.com/wp-content/uploads/2018/11/DBSA_Official_Logo-w-Geo-Logic-Co-300x78.png
Sandra West
2021-09-17 08:50:58
2021-09-17 09:08:34
DBS&A at Oka' Sustainability Conference