Python as a Tool for Sustainable Management Criteria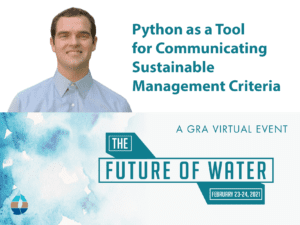 DBS&A Hydrogeologist Patrick O'Connell, PG, will be presenting a poster virtually at the Groundwater Resources Association of California (GRA) Future of Water conference taking place on February 23rd and 24th, 2021. The poster topic is on Python as a tool for communicating sustainable management criteria in Groundwater Sustainability Plan (GSP) development.
Mr. O'Connell has project experience spanning hydrogeological conceptual model development; groundwater modeling; Sustainable Groundwater Management Act (SGMA) support; water rights litigation support; water well design, construction, testing, profiling, and rehabilitation; and environmental investigation and remediation.  He has experience with hydrogeological conceptual models for alluvial basins throughout Los Angeles, Orange, and Ventura Counties.  He has provided support on several MODFLOW groundwater models for projects to optimize water rights (i.e., injection and extraction), meet permitting requirements for operation of seawater barriers, and develop GSPs, including the use of a FEMFLOW3D model in San Diego County.
For the GSPs that DBS&A is currently developing for the Fillmore and Piru Basins Groundwater Sustainability Agency (GSA), he is responsible for analyzing data, hydrogeological conceptual models, and numerical groundwater flow model results to communicate basin conditions to Board members and stakeholders, so that they can decide Sustainable Management Criteria (SMC) for their basins.  Learn more about DBS&A's sustainable groundwater management services. 
https://www.dbstephens.com/wp-content/uploads/2022/10/DBSA-website-color-logo-300x65.png
0
0
Lisa Huey
https://www.dbstephens.com/wp-content/uploads/2022/10/DBSA-website-color-logo-300x65.png
Lisa Huey
2021-02-19 10:17:21
2021-07-16 16:27:58
Python as a Tool for Sustainable Management Criteria