DBS&A at Texas Groundwater Conference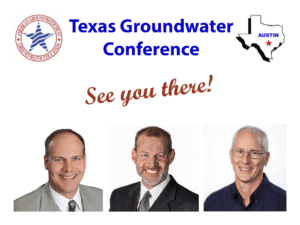 The American Ground Water Trust's (AGWT's) annual Texas Groundwater Conference, their 28th conference since 2009, will take place in Austin on June 30 and July 1.
DBS&A's groundwater professionals — Neil Blandford, PG, Andrew Donnelly, PG, and Paul Kirby, PG —will participate in this important event focused on "everything aquifers and groundwater management."
Senior Vice President, Principal Hydrologist, T. Neil Blandford, PG, will present on the Hydrogeology of the Cross Timbers Aquifer in North Central Texas.
With expertise in groundwater and surface-water hydrology and soil science, DBS&A supports clients in developing sustainable water supplies, conjunctively managing surface water and groundwater, adapting to changes in climate, and interacting with regulatory agencies. Learn more about our water resources expertise.
https://www.dbstephens.com/wp-content/uploads/2022/10/DBSA-website-color-logo-300x65.png
0
0
Sandra West
https://www.dbstephens.com/wp-content/uploads/2022/10/DBSA-website-color-logo-300x65.png
Sandra West
2021-06-28 09:26:16
2021-06-28 09:26:16
DBS&A at Texas Groundwater Conference