Hannah Erbele Passes California Professional Geologist Exam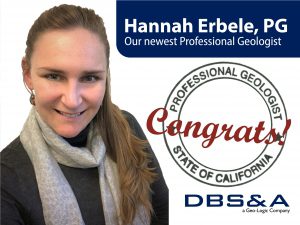 Congratulations to Hannah Erbele, PG, on passing the California Professional Geologist examination requirements. Hannah is now licensed by the State of California  Board for Professional Engineers, Land Surveyors, and Geologists.
Ms. Erbele has been a valued member of the team in California since joining DBS&A in 2017. She earned a bachelors degree in Earth and Environmental Science at the University of California, Irvine and has completed graduate work at California State University, Long Beach. Recent project work has included providing technical and management support for:
Environmental assessment and remediation of industrial and commercial properties
The Ventura River Watershed Model, which covers Ojai Valley Groundwater Basin, Upper Ojai Valley Groundwater Basin, Upper Ventura River Groundwater Basin, and Lower Ventura Groundwater Basin
An Asset Management Plan for water supply wells that assesses of the condition, criticality, and long-term reliability of wells within the Cal Water Districts
The evaluation of long-term trends and variations in the average total dissolved solids (TDS) concentration in wastewater and recycled water for the Southern California Salinity Coalition (SCSC)
The recomputation of ambient water quality for the period 1996 to 2015 for the Basin Monitoring Program Task Force of the Santa Ana Watershed Project Authority (SAWPA)
Developing a comprehensive regulatory and programmatic approach to the management of salt and nitrate in the Central Valley-Salinity Alternatives for Long-Term Sustainability (CV-SALTS) program
Updating the Salinity Economic Impact Model for the Lower Colorado River Basin developed by U.S. Bureau of Reclamation
Hannah's Supervisor, John J. Dodge, PG, CHG, Principal Hydrogeologist, says "Hannah is an integral team member for several projects in California with solid technical and project management skills". 
Please join us in congratulating Ms. Erbele on her accomplishment.
https://www.dbstephens.com/wp-content/uploads/2018/11/DBSA_Official_Logo-w-Geo-Logic-Co-300x78.png
0
0
db_stephens_admin
https://www.dbstephens.com/wp-content/uploads/2018/11/DBSA_Official_Logo-w-Geo-Logic-Co-300x78.png
db_stephens_admin
2021-05-19 08:34:01
2021-05-19 08:34:01
Hannah Erbele Passes California Professional Geologist Exam