Tom Golden Leads DBS&A Austin Engineering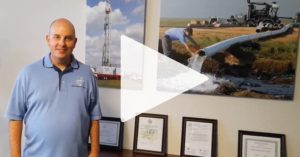 Thomas Golden, PE, is a Texas-licensed Professional Engineer with 13 years of engineering experience and 20 years of experience overall. A DBS&A employee for 14 years, he has returned to our Austin, Texas, office to oversee DBS&A engineering design work in Texas. Mr. Golden specializes in: design of environmental investigations and remediation of soil and groundwater; design and permitting of landfills and waste disposal facilities, mines, stormwater, water supply, and wastewater projects; and field and laboratory data analysis.
"It's great to have Tom back in Austin and to have such a skilled engineer in a leadership position" says Kevin Hopson, PG, Vice President and Texas Operations Manager.
Tom is or has been the Engineer-of-Record for several ongoing projects in Texas including remediation systems, permitting and design of waste disposal facilities, water supply development and treatment systems, and well site construction. Mr. Golden has served as Engineer-of-Record and Registered Corrective Action Specialist (RCAS) for ongoing assessment, monitoring, and remediation activities under DBS&A's Remediation Engineering contracts with the Texas Commission on Environmental Quality's (TCEQ). Under these contracts, Mr. Golden prepares and implements corrective action plans; evaluates system operations and groundwater monitoring data; and reviews and seals reports.  These projects employ groundwater extraction, soil vapor extraction (SVE), mobile dual-phase extraction (MDPE), and liquid phase-separated hydrocarbon recovery.
Other Texas clients/projects that Mr. Golden supports include:
Austin Liquid Waste Processing Facility, Southwaste Disposal, LLC, Austin, Texas
Permit Application and Design of Compost Facilities, Austin County and San Antonio, Texas
Permit Application and Engineering Design, Confidential Client Disposal Facility, Orla, Texas
Permit Application, Disposal Facility, Confidential Client, San Antonio, Texas
Public Water Supply Permit Application, Pioneer Natural Resources USA, Masterson, Texas
Public Water Supply Permit Application, Private Client, Winkler County, Texas
Contact Tom by email, phone (512-821-2765), or the office at: 12303 Technology Boulevard, Suite 930D Austin, Texas 78727.
https://www.dbstephens.com/wp-content/uploads/2018/11/DBSA_Official_Logo-w-Geo-Logic-Co-300x78.png
0
0
db_stephens_admin
https://www.dbstephens.com/wp-content/uploads/2018/11/DBSA_Official_Logo-w-Geo-Logic-Co-300x78.png
db_stephens_admin
2020-09-18 09:51:09
2020-09-18 10:08:53
Tom Golden Leads DBS&A Austin Engineering