PFAS Contamination in the News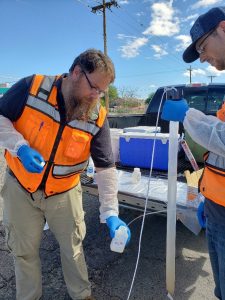 The Carlsbad Current-Argus recently published an article "Lawmakers talk ban on 'forever chemicals' in New Mexico oil and gas" citing DBS&A's work assisting the New Mexico Environment Department (NMED) Hazardous Waste Bureau with investigation of poly- and perfluoroalkyl substance (PFAS) impacts to surface water and groundwater in the vicinity of both Cannon and Holloman Air Force Bases (AFBs), located in Curry County and Otero County, New Mexico, respectively. The Current-Argus report was based, in part, on DBS&A Hydrogeologist Amy Ewing's presentation to the Radioactive and Hazardous Materials Legislative subcommittee in Carlsbad on Tuesday, October 10.
PFAS are a large family of manmade organofluorine compounds that were developed in the early 1940s.  Certain PFAS, such as perfluorooctanoic acid (PFOA) and perfluorooctane sulfonic acid (PFOS), are mobile, persistent, and bioaccumulative, and are not known to degrade in the environment.  Both sites had historic use of aqueous film forming foam (AFFF) to extinguish fires involving highly flammable liquids. Learn more about DBS&A's PFAS expertise.
FY2022 NMED PFAS project activities included:
Compiling and reviewing all existing documents and data
Developing planning documents and conceptual site models
Installing and sampling one downgradient monitor well for the Cannon site
Groundwater sampling, numerical modeling for the Holloman site
Sediment and surface water sampling for the Holloman site
Biological sampling of bird and small mammal species at Lake Holloman, working in collaboration with the University of New Mexico Museum of Southwestern Biology
Analysis of a subset of the biological samples
FY2023 NMED PFAS project activities included:
Reviewing the U.S. Air Force's Cannon AFB Remedial Investigation work plan
Numerical modeling for the Cannon site
Sampling of domestic wells and project-specific downgradient monitor wells for the Cannon site
Access coordination for the Holloman site
Analysis of additional biological samples for the Holloman site
Atmospheric dispersion and deposition modeling for the Holloman site, working in collaboration with Sanborn, Head and Associates, Inc.
Development of recommendations
DBS&A's FY2022 and FY2023 NMED PFAS project reports are available at https://www.env.nm.gov/pfas.
https://www.dbstephens.com/wp-content/uploads/2022/10/DBSA-website-color-logo-300x65.png
0
0
Lisa Huey
https://www.dbstephens.com/wp-content/uploads/2022/10/DBSA-website-color-logo-300x65.png
Lisa Huey
2023-10-24 15:28:42
2023-10-25 09:06:52
PFAS Contamination in the News