NGWA Outstanding Groundwater Supply Project Award Recipient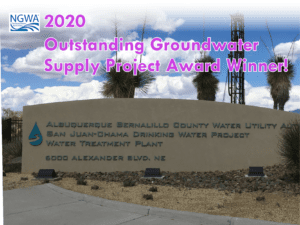 DBS&A is honored to have been selected as this year's recipient of the National Ground Water Association (NGWA) Outstanding Groundwater Supply Project Award in recognition of our work on the Albuquerque Bernalillo County Water Utility Authority's Drinking Water Treatment Plant (DWTP) Large-Scale Recharge Project.
According to the NGWA's website, "the Outstanding Groundwater Project Awards recognize member innovation and contributions affecting groundwater supply, protection, remediation, and awareness. The Groundwater Supply Award recognizes outstanding science, engineering, and/or contractor innovation in the area of supplying groundwater." The presentation of awards will occur during the 2020 NGWA Groundwater Week taking place in Las Vegas, Nevada, December 8-10, 2020. Read more about this prestigious award.
The project is designed to recharge surface water, specifically San Juan-Chama (SJC) Project water, to the Middle Rio Grande basin aquifer using two methods: (1) direct injection using an aquifer storage and recovery well, and (2) infiltration using a vadose zone well. The Water Authority contracted with DBS&A to permit, design, and oversee the construction of the DWTP Large-Scale Recharge Demonstration Project at the site of the existing SJC Drinking Water Treatment Plant (DWTP).
According to DBS&A Hydrogeologist and Project Manager Amy Ewing, PG, "The Water Authority is implementing managed aquifer recharge projects to allow for conjunctive management of surface water and groundwater resources using SJC Project water imported  from the Colorado River Basin and diverted from the Rio Grande to to recharge the Santa Fe Group aquifer system of the Middle Rio Grande Basin to establish a long-term drought reserve."  The Water Authority's 100-year water plan, Water2120, includes aquifer storage and recovery (ASR) as a critical component in addressing future water supply needs, especially considering impacts due to climate change. Click here to read about the project.
The Water Authority's Water Resources Division Manager, Katherine Yuhas, wrote a letter of support for the project in recognition of "…the exemplary work that DBS&A contributed to this project. Our organizations worked very closely together on all phases of the project, and the Water Authority plans to install more ASR wells in the future to maximize storage of our San Juan-Chama water, create a drought reserve, and restore groundwater levels in the Albuquerque Basin."
Learn more about DBS&A's water recharge, reuse, and recycling services.
https://www.dbstephens.com/wp-content/uploads/2018/11/DBSA_Official_Logo-w-Geo-Logic-Co-300x78.png
0
0
db_stephens_admin
https://www.dbstephens.com/wp-content/uploads/2018/11/DBSA_Official_Logo-w-Geo-Logic-Co-300x78.png
db_stephens_admin
2020-08-25 10:07:51
2020-08-25 10:37:26
NGWA Outstanding Groundwater Supply Project Award Recipient