GAM Expert at Texas Groundwater Summit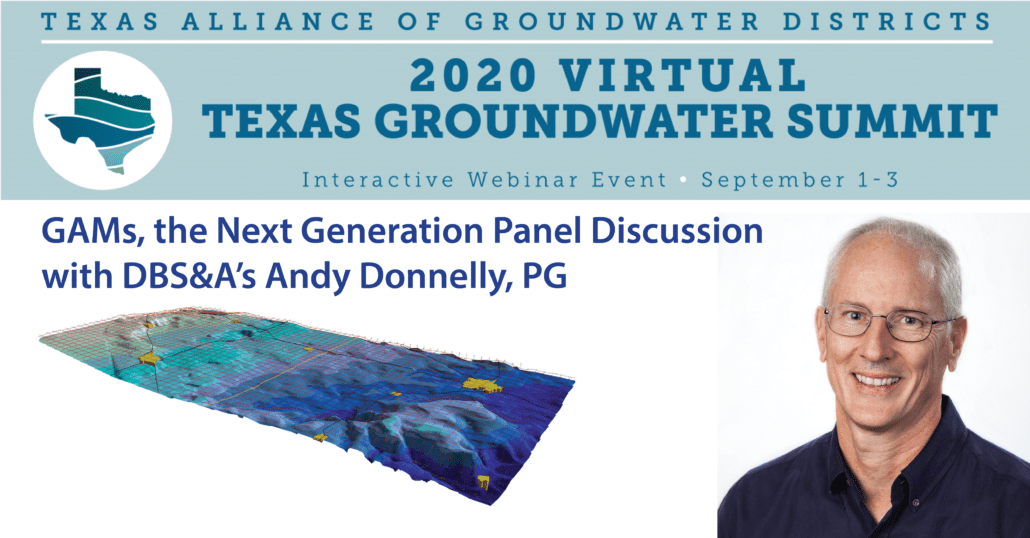 The Texas Alliance of Groundwater Districts (TAGD) is holding its 2020 Virtual Texas Groundwater Summit September 1st through 3rd.
On the first day of the summit, DBS&A's groundwater availability model (GAM) expert—Andrew Donnelly, PG—will serve on a panel to discuss "GAMs, the Next Generation." Fellow panelists include Natalie Ballew, Groundwater Technical Assistance Manager, Texas Water Development Board, and John Ellis, Supervisory Hydrologist, United States Geological Survey.
With expertise in groundwater hydrology, hydrogeology, and modeling, DBS&A supports groundwater conservation districts (GCDs) and municipalities throughout the West in assessing groundwater resources, conjunctively managing surface water and groundwater, adapting to climate change, and interacting with regulatory agencies. Learn more about our water resources expertise.
https://www.dbstephens.com/wp-content/uploads/2022/10/DBSA-website-color-logo-300x65.png
0
0
Sandra West
https://www.dbstephens.com/wp-content/uploads/2022/10/DBSA-website-color-logo-300x65.png
Sandra West
2020-08-28 11:38:37
2020-08-31 12:30:18
GAM Expert at Texas Groundwater Summit