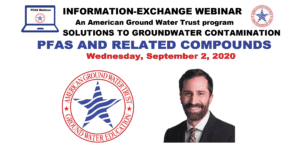 The American Ground Water Trust (AGWT) problem assessment and treatment strategies webinar will be held on September 2, 2020. The conference will focus on Per- and polyfluoroalkyl substances (PFAS) and other emerging contaminants that affect water supply in New Jersey, Maryland, Delaware, and surrounding states.
Gregory Schnaar, PhD, PG, Principal Hydrogeologist, will share important information about PFAS sources, fate and transport, and forensic methods for source determination in his presentation, "PFAS: Wide-Ranging Sources and Impacts to Water Supplies."
According to the program:
Many states are confronting contamination of groundwater and surface water from so-called emerging contaminants. There are technical, regulatory and legal challenges for communities responding to groundwater contamination. Water providers are faced with an urgent need to deal with concerns about health issues, regulations, property values, remediation options and infrastructure costs. The webinar will provide objective information to facilitate water providers, elected officials, citizens and community leaders with policy, planning and management decisions.
Over 5,000 PFAS (per- and polyfluorinated alkyl substances) occur in the world today and many PFAS compounds transform into highly persistent perfluorinated chemicals in the environment. Webinar participants will learn about the chemistry background, sampling & testing protocols, treatment technologies, cost recovery options and the characteristics of environmental persistence of contamination. Presenters will provide case studies of technical solutions for treatment and remediation. The program will also discuss regulatory and legal solutions to protecting drinking water integrity from a range of contaminants and will consider ways to find funding to pay for treatment of contaminated groundwater. Learn more.
https://www.dbstephens.com/wp-content/uploads/2018/11/DBSA_Official_Logo-w-Geo-Logic-Co-300x78.png
0
0
db_stephens_admin
https://www.dbstephens.com/wp-content/uploads/2018/11/DBSA_Official_Logo-w-Geo-Logic-Co-300x78.png
db_stephens_admin
2020-08-31 12:34:44
2020-08-31 12:34:44
Dr. Schnaar Presenting on PFAS