Groundwater Availability in the Permian Basin for Oil & Gas Operations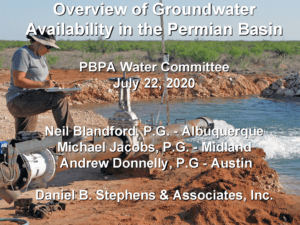 Neil Blandford, PG,  Albuquerque, New Mexico-based Senior Vice President and Principal Hydrologist and Hydrogeologists from our Austin and Midland, Texas offices Andrew Donnelly, PG, and Michael Jacobs, PG, delivered a virtual presentation on "Groundwater Availability in the Permian Basin" organized by the Water Committee of Permian Basin Petroleum Association (PBPA) recently.
Targeted for oil and gas operators seeking water supplies and water rights or an improved understanding of groundwater sources and sustainability, the presentation covered both the physical availability and regulatory availability issues pertaining to the Ogallala, Edwards Trinity (Plateau), Pecos Valley, Dockum (Santa Rosa), Rustler, and Capitan Reef. Other topics included joint groundwater planning in Texas (HB 1763 passed in 2005) and the process for determining the amount of groundwater pumping that can occur without exceeding the Desired Future Conditions in place for each aquifer. Other areas of expertise presented include the development of water rights in New Mexico and permitting requirements for water right appropriations, transfers and leases. Deep brackish aquifer wells as potential water sources were also covered. Click here to view the full range of oil and gas related services that DBS&A provides. 
Several attendees commented that the presentation was the best and most comprehensive on Permian groundwater that they had seen.  Click here to schedule a virtual presentation for your organization or to request a link to the presentation.
The PBPA has been serving the oil & gas industry of West Texas & Southeastern New Mexico since 1961. The Water Committee's mission is: to monitor and advise the PBPA membership and PBPA staff in regards to current and future topics regarding water and its use by the oil and gas industry throughout the Texas and New Mexico portions of the Permian Basin. The WC will also coordinate with the appropriate PBPA representatives to ensure the proper coordination and management of data flow and communication regarding water issues and concerns with state legislative bodies.  Learn more. 
https://www.dbstephens.com/wp-content/uploads/2018/11/DBSA_Official_Logo-w-Geo-Logic-Co-300x78.png
0
0
db_stephens_admin
https://www.dbstephens.com/wp-content/uploads/2018/11/DBSA_Official_Logo-w-Geo-Logic-Co-300x78.png
db_stephens_admin
2020-07-27 08:29:14
2020-07-27 08:29:14
Groundwater Availability in the Permian Basin for Oil & Gas Operations