Final New Mexico Wildlife Corridors Action Plan Released to the Public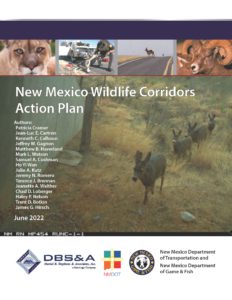 On behalf of the New Mexico Department of Transportation (NMDOT) and the New Mexico Department of Game and Fish (NMDGF), DBS&A developed the New Mexico Wildlife Corridors Action Plan (Action Plan).  The Action Plan will help reduce wildlife-vehicle collisions and enhance wildlife habitat linkages across all of New Mexico.
The New Mexico Legislature passed the 2019 New Mexico Wildlife Corridors Act, calling for the development of an Action Plan that guides NMDOT in its efforts to build wildlife road-crossing structures where they are most needed in the state. Through modeling and field studies, the Action Plan identifies and ranks areas across New Mexico where wildlife-vehicle collisions pose the greatest threat to the traveling public and/or wildlife movements are most severely impeded by road traffic. Six large mammals are the focus of most of the modeling: mule deer (Odocoileus hemionus), elk (Cervus canadensis), pronghorn (Antilocapra americana), bighorn sheep (Ovis canadensis), black bear (Ursus americanus), and cougar (Puma concolor) (also known as mountain lion or puma). A list of additional species impacted by roads in New Mexico is provided in the Action Plan, which identifies specifically where road-crossing structures should be built, what type (overpasses, enlarged culverts, or bridge underpasses) will most effective for reducing wildlife-vehicle collisions and enhance habitat connectivity, and how much they will cost.
Following the release of the draft Action Plan in January 2022, DBS&A, NMDOT, and NMDGF jointly held virtual public meetings to present the Action Plan, its methodology and results, and the priority areas for building road-crossing structures. A 60-day public comment period enabled federal, state, and local agencies, tribes, environmental NGOs, property owners, and other stakeholders to provide input. The final Action Plan, which is now being released, reflects the input of the public and includes a list of possible funding sources and mechanisms for the implementation phase, which comes next.
DBS&A led the Action Plan team directed by Dr. Jean Luc Cartron, DBS&A Senior Biologist and University of New Mexico (UNM) Research Professor, in cooperation with:
Patricia Cramer (Primary Investigator), Director of the Wildlife Connectivity Institute
Julie Kutz, Biologist, DBS&A
Kenny Calhoun, GIS Manager, DBS&A
Jeff Gagnon, Statewide Connectivity Biologist, Arizona Game and Fish Department (AZGFD)
Samuel Cushman Research Landscape Ecologist, Rocky Mountain Research Station, U.S. Forest Service (USFS)
Ho Yi Wan Assistant Professor, Humboldt State University
Terry Brennan Professional Engineer, retired, USFS
Jeanette Walther Professional Engineer, Bohannan Huston, Inc.
Jeremy Romero Regional Connectivity Coordinator, National Wildlife Federation
Chad Loberger Senior Project Manager, AZGFD
Haley Nelson Research Biologist/GIS Specialist, AZGFD
Mark Watson Terrestrial Habitat Specialist, NMDGF
Matthew Haverland Wildlife Coordinator, NMDOT
James Hirsch Environmental Analyst, NMDOT
Trent Botkin Acting Environmental Bureau Manager, NMDOT
View the Final Report (pdf) here. Learn more about DBS&A's natural resources capabilities.
https://www.dbstephens.com/wp-content/uploads/2022/10/DBSA-website-color-logo-300x65.png
0
0
db_stephens_admin
https://www.dbstephens.com/wp-content/uploads/2022/10/DBSA-website-color-logo-300x65.png
db_stephens_admin
2022-08-10 13:17:55
2022-08-10 13:21:48
Final New Mexico Wildlife Corridors Action Plan Released to the Public