Deadline for PFAS and Emerging Contaminant Project Funding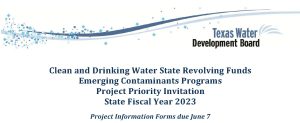 Texas has an exciting funding opportunity for PFAS and Emerging Contaminant projects, but time is short!
Texas Water Development Board (TWDB) is administering funds from the Bipartisan Infrastructure Law through the Clean Water and Drinking Water State Revolving Funds. 100% of this funding is grant money, with no loan component and no matching funds.
Funds not disbursed by TWDB through this round of funding must be returned to the Federal Government and will likely be excluded from the next round of funding—therefore, TWDB is encouraging applicants to think big, ask for a lot, and apply!
Clean Water Emerging Contaminant funds total $4.1 million for FY 2023.
Drinking Water Emerging Contaminant funds total $56.8 million for FY 2023.
Applicants must submit a Project Information Form (PIF) by June 7, 2023 to be eligible to apply for these funds.
Full grant applications will not be due until December of 2023, but TWDB will not invite applicants to apply without a PIF submitted by June 7.
If you have concerns about PFAS/Emerging Contaminants or a specific project that would benefit from this funding, DBS&A is here to help! We have staff on hand to help you identify eligible projects and get the PIF properly completed and submitted on time. There is no obligation to continue the grant process past this point, but grant applications will not be considered if the PIF is not submitted.
Examples of eligible projects include, but are not limited to:
Eligible Projects for the Drinking Water State Revolving Fund (DWSRF)
New construction or upgrades for an emerging contaminants/PFAS treatment facility

Development of a new water source (i.e., new/replacement well or public water system intake) that addresses an emerging contaminant/PFAS issue

Consolidation with another water system that does not have emerging contaminants/PFAS present or has removal capability

Planning and design and associated pre-project costs

Infrastructure related to pilot testing for treatment alternatives

Creation of a new community water system to address unsafe drinking water provided by individual (i.e., privately-owned) wells or surface water sources
Eligible Projects for the Clean Water State Revolving Fund (CWSRF)
Projects at wastewater treatment facilities: Installation of technology to treat for PFAS

Water reuse: Potable and non-potable water reuse/reclamation projects that may be applying advanced treatment (e.g., reverse osmosis, granulated activated carbon, or ion exchange) to remove PFAS

Non-point source projects: Capital projects that support the implementation of a current EPA approved state nonpoint source management program plan or nine-element watershed-based plan established under Section 319 of the Clean Water Act and may be publicly or privately owned.
For more information about this program, or to get help in submitting a PIF by the deadline, contact Kevin Hopson, PG, DBS&A Vice President, Texas Operations at (512) 821-2765.
Helpful links
For direct access to program information, PIF forms, and TWDB outreach contact, see the links below.
* DWSRF Project Information Form (PIF)
* CWSRF Project Information Form (PIF) 
TWDB Emerging Contaminants Program
EPA Contaminant Candidate Lists
Emerging Contaminants for CWSRF are broadly defined in Attachment 1 –Appendix B
TWDB Outreach: Scott Galaway  scott.galaway@twdb.texas.gov (737) 226-3381
https://www.dbstephens.com/wp-content/uploads/2022/10/DBSA-website-color-logo-300x65.png
0
0
db_stephens_admin
https://www.dbstephens.com/wp-content/uploads/2022/10/DBSA-website-color-logo-300x65.png
db_stephens_admin
2023-05-24 16:22:06
2023-05-25 09:56:28
Deadline for PFAS and Emerging Contaminant Project Funding