Carbon Sequestration Project Featured in Energy, Oil & Gas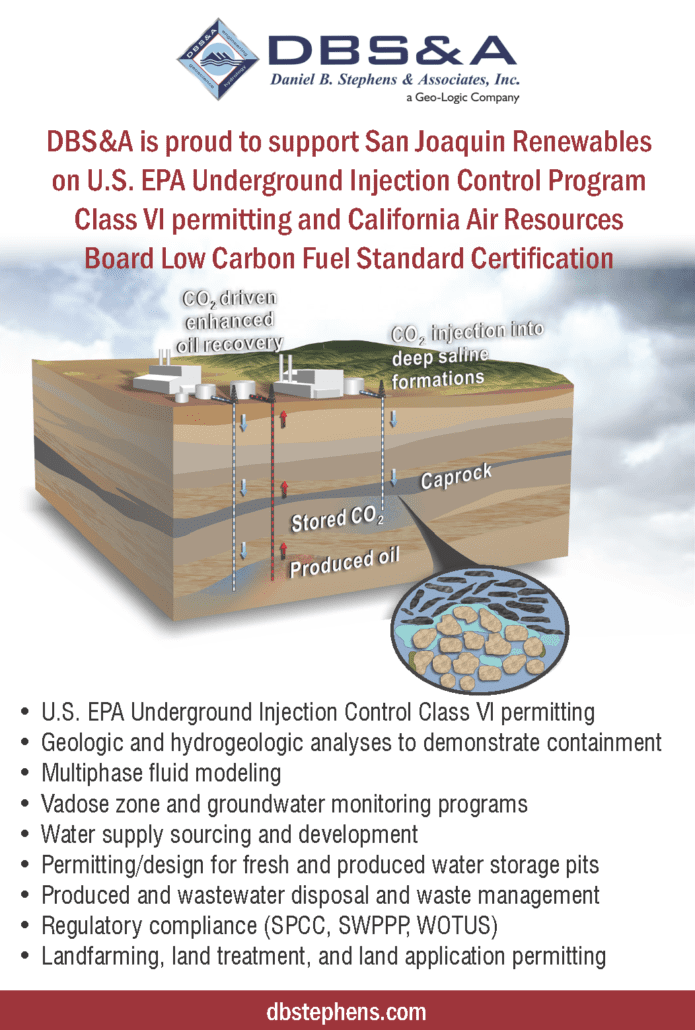 DBS&A is proud to support San Joaquin Renewables, LLC, (SJR) on U.S. EPA Underground Injection Control (UIC) Program Class VI permitting and California Air Resources Board Low Carbon Fuel Standard Certification.
Our client's (SJR/Frontline BioEnergy) project appeared in an article in the May 2022 issue of Energy, Oil & Gas magazine. T.J Paskach, President of SJR, was interviewed about the $165 million development of the revolutionary SJR Project, and the significance of developing carbon-alternative renewables within the wider energy transition, particularly via 'Green Hydrogen' and carbon sequestration.
Mr. Paskach provided an overview of the proposed biomass project in Kern County, California, which will convert agricultural waste into the equivalent of approximately 30,000,000 gallons of gasoline per year. A carbon sequestration element was added to the project to handle the byproduct of the gasification process. DBS&A has been assisting Frontline with permit applications for carbon sequestration to the U.S. Environmental Protection Agency (EPA) and California Air Resources Board.
As DBS&A's Project Manager, Gregory Schnaar, PhD, PG, Director of Expert Services and Principal Environmental Scientist, has been instrumental in the SJR project. DBS&A has the expertise to assist clients with a variety of carbon capture and storage related services, including:
U.S. EPA Underground Injection Control Class VI permitting
Geologic and hydrogeologic analyses to demonstrate containment
Multiphase fluid modeling
Vadose zone and groundwater monitoring programs
Water supply sourcing and development
Permitting/design for fresh and produced water storage pits
Produced and wastewater disposal and waste management
Regulatory compliance (SPCC, SWPPP, WOTUS)
Landfarming, land treatment, and land application permitting
https://www.dbstephens.com/wp-content/uploads/2022/10/DBSA-website-color-logo-300x65.png
0
0
db_stephens_admin
https://www.dbstephens.com/wp-content/uploads/2022/10/DBSA-website-color-logo-300x65.png
db_stephens_admin
2022-05-17 11:46:57
2022-05-17 12:35:20
Carbon Sequestration Project Featured in Energy, Oil & Gas