Water Board Adopts DBS&A Watershed Salt Load Findings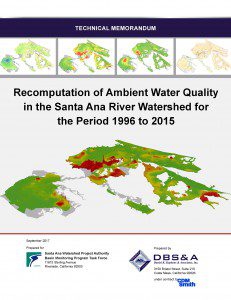 The Santa Ana Regional Water Quality Control Board has adopted DBS&A's ambient water quality determinations for total dissolved solids (TDS) and nitrate-nitrogen for all 37 of the groundwater management zones (GMZs) contained within the 2,840 square-mile Santa Ana Watershed in 2015.
DBS&A's submittal of the updated 2015 TDS and nitrate-nitrogen ambient water quality (AWQ) determinations and assimilative capacity findings was accepted by the Santa Ana Water Board on March 23, 2018 as part of ongoing efforts to mitigate Basin Plan watershed salt loads. The Santa Ana Water Board's acceptance further resolved that DBS&A report findings of ambient water quality was in compliance with the Salt Management Plan Monitoring Program Requirements that address TDS and nitrate in surface water and groundwater.
In issuing Resolution R8-2018-0027, the Santa Ana Water Board has directed staff to use DBS&A's report of "…updated ambient TDS and nitrate-nitrogen determinations and assimilative capacity findings to develop appropriate waste discharge requirements or water recycling requirements."
According to DBS&A's Senior Vice President and Principal Hydrogeologist, Dr. Steve Cullen, PG, "DBS&A's team of hydrogeologists, modelers, and data analysts have put together a remarkable product—we're very proud of DBS&A's contribution to the protection of water quality in the Santa Ana River Watershed."
The 2015 ambient water quality determinations are currently being incorporated into the Santa Ana Watershed Project Authority's One Water One Watershed (OWOW) 2018 Update to the Integrated Regional Water Management (IRWM) plan.
DBS&A's TDS Trends Study, recently completed for the Southern California Salinity Coalition and the National Water Research Institute, by DBS&A is also being incorporated into the OWOW update. Click here to learn more.
Resolution No. R8-2018-0027 can be found online here.
Links to the technical memorandum developed by DBS&A are located on the Board's website:
https://www.waterboards.ca.gov/santaana/water_issues/programs/basin_plan/docs/SMP/2017/AWQ-Tech-Memo_9-22-2017.pdf
https://www.waterboards.ca.gov/santaana/water_issues/programs/basin_plan/docs/SMP/2017/Appendix-B.pdf
https://www.dbstephens.com/wp-content/uploads/2018/11/DBSA_Official_Logo-w-Geo-Logic-Co-300x78.png
0
0
db_stephens_admin
https://www.dbstephens.com/wp-content/uploads/2018/11/DBSA_Official_Logo-w-Geo-Logic-Co-300x78.png
db_stephens_admin
2018-04-13 16:14:35
2018-04-27 08:07:49
Water Board Adopts DBS&A Watershed Salt Load Findings