Dr. Stephens Shares Insights into Water Resources and Environmental Consulting in AWRA Magazine Article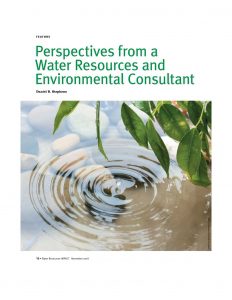 The American Water Resources Association's (AWRA) November 2018 issue of Water Resources IMPACT featured an article authored by DBS&A Founder, Dr. Daniel B. Stephens, P.G., C.Hg., entitled "Perspectives from a Water Resources and Environmental Consultant." In the article, he discusses his thoughts on where we are and where we are headed in reference to our work in subsurface hydrology, water supply development, water planning and management, and managed aquifer recharge, as well as addressing impacts of contaminants released to soil and groundwater, and solid waste (landfill) management and environmental forensics.
For instance, Dr. Stephens predicts that "Recycled water for potable use will be common place in major cities." DBS&A has already been involved in water reuse projects using treated wastewater in the Cities of Albuquerque, Hobbs, and Rio Rancho, New Mexico, in addition to a remediation project that returns disinfected water at a Superfund Site in Las Cruces, New Mexico, directly into the municipal drinking water distribution system. The contaminated water is made safe for drinking through a remediation process called air-stripping, which cleans between 8.5 and 9 million gallons of water every month.
Water Resources IMPACT is a bi-monthly solution-oriented magazine containing diverse and timely articles written for water resources professionals at all levels of the profession. AWRA Members can access the full article here.