Dr. Stephens Awarded Groundwater Resources Association of California's Lifetime Achievement Award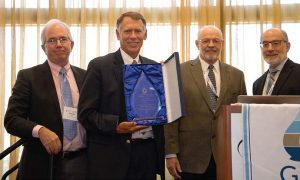 DBS&A's Founder and Principal Hydrologist, Daniel B. Stephens, Ph.D., P.Hg., P.G., has been selected as the recipient of the 2017 Groundwater Resources Association (GRA) of California's Lifetime Achievement Award. This award is presented to individuals for their exemplary contributions to the groundwater industry, contributions that have been in the spirit of GRA's mission and organization objectives. Like past recipients of the Lifetime Achievement Award, Dr. Stephens has dedicated his career to the groundwater industry and has been a pioneer in his field of expertise; specifically, applied analyses of vadose (unsaturated) zone processes that play a vital role in quantifying groundwater recharge rates and understanding infiltration processes and contaminant transport. Dr. Stephens was recognized at GRA's Annual Conference in Sacramento, California, on October 3-4, 2017.
Dr. Nicole Sweetland, Principal Hydrogeologist of DBS&A and President of DBS&A's parent company, Geo-Logic Associates (GLA), congratulates Dan on this recognition of his significant and enduring impact on the scientific community. "Dan has been a tremendous mentor to me in my career and I could not be more proud."
Dr. Stephens began private consulting in 1976 and founded Daniel B. Stephens & Associates, Inc. (DBS&A) in 1984. With a modest start in Socorro, New Mexico, DBS&A grew to a $17-million corporation with seven offices in California, New Mexico, Colorado, and Texas. In 2015, DBS&A joined forces with GLA and now has 27 offices and more than 250 employees in the U.S. and abroad.
As the founder of DBS&A, and a GRA member for 15 years, Dr. Stephens has aligned himself with the mission and objectives of the GRA, promoting his colleagues' professional development, and achieving technical excellence over his lifetime through research, innovation, and education. Learn more about Dr. Stephens. 
https://www.dbstephens.com/wp-content/uploads/2018/11/DBSA_Official_Logo-w-Geo-Logic-Co-300x78.png
0
0
db_stephens_admin
https://www.dbstephens.com/wp-content/uploads/2018/11/DBSA_Official_Logo-w-Geo-Logic-Co-300x78.png
db_stephens_admin
2017-10-04 07:45:46
2018-06-12 07:49:05
Dr. Stephens Awarded Groundwater Resources Association of California's Lifetime Achievement Award