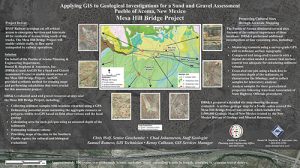 DBS&A's Geographic Information Systems (GIS) team will be attending the National Tribal Geographic Information Support Center's (NTGISC) 9th Annual National Tribal GIS Conference taking place from November 5 through 9, 2018 at the Southwestern Indian Polytechnic Institute in Albuquerque, New Mexico.
GIS Manager, Kenny Calhoun, GISP; GIS Technician, Samuel Romero; Senior Geochemist, Chris Wolf, P.G.; and Staff Geologist; Chad Johannesen, P.G., co-authored a digital poster for the event, which showcases the benefits of applying a GIS to a Sand and Gravel Assessment that DBS&A performed on behalf of the Pueblo of Acoma Planning and Engineering Department. ArcGIS provided a reliable method for creating maps and performing calculations that were crucial for this assessment project. GIS Analyst, April Molina, GISP, Mr. Calhoun, and Mr. Romero will be present at the conference to discuss DBS&A's GIS capabilities and experience working with tribal entities.
Acoma has ongoing construction projects including roadways, bridges, and pipelines that require sand and gravel borrow material during construction.  A new bridge project, Mesa Hill Bridge and SP 36 Road Extension Project, is in the early design phase and initial estimates indicate that over 190,000 cubic yards of aggregate will be used during the construction project.  Funding was provided by the Bureau of Indian affairs (BIA), Division of Energy & Mineral Development.
Using a phased approach, DBS&A evaluated the sand and gravel resources at nine sites with seven of the sites within five miles of the Mesa Hill Bridge Project.  Sediment samples were collected with locations recorded using a GPS.  Potential areas containing the aggregate resource were delineated as polygons within ArcGIS based on field observations and the local geology.  The area was calculated for each polygon and using an assumed depth of the sediments, the sediment volume was estimated.  This information was provided to Acoma for deciding which sites could be further investigated.  Maps of the sites were provided to the Southern Pueblo Agency for Cultural and Biological evaluations.
Acoma eliminated several of the nine sites due to cultural reasons, and DBS&A performed additional investigations at four of the remaining sites. At each site, transects were measured using a survey-grade GPS unit to help delineate the surface topography, which was compared and integrated with a digital elevation model (DEM) to ensure that surface control was adequate for calculating sediment volumes.  Test pits were excavated using a back hoe to determine depth of the sediments, to characterize the lithology, and to collect samples for laboratory analyses.  Samples were analyzed for their geotechnical properties following American Association of State Highway Officials (AASHTO) procedures.  A detailed site map, showing the areas evaluated, was prepared in ArcGIS that included a surface geologic map for a five-mile radius around the Mesa Hill Bridge Project using the 1:500,000 Geologic Map of New Mexico created by the New Mexico Bureau of Geology and Mineral Resources.
DBS&A prepared a detailed report that provided ArcGIS maps for each site, geologic cross-sections, laboratory data, and the geologic maps.  Potential volumes of sand and gravel were calculated for each of the sites evaluated in Phase 2.
This year's conference theme, Impact of New Technologies – Flying into the Future, aims to recognize the various technologies as supporting tools to identify issues and solutions that support the management and protection of Natural Resources, Culture, Land, etc., to achieve greater community decisions that support the well being of tribal communities. Click here to learn more about the conference.
https://www.dbstephens.com/wp-content/uploads/2018/11/DBSA_Official_Logo-w-Geo-Logic-Co-300x78.png
0
0
db_stephens_admin
https://www.dbstephens.com/wp-content/uploads/2018/11/DBSA_Official_Logo-w-Geo-Logic-Co-300x78.png
db_stephens_admin
2018-11-07 08:54:50
2018-11-07 08:54:50
Applying GIS to Geological Investigations for a Sand and Gravel Assessment at Pueblo of Acoma