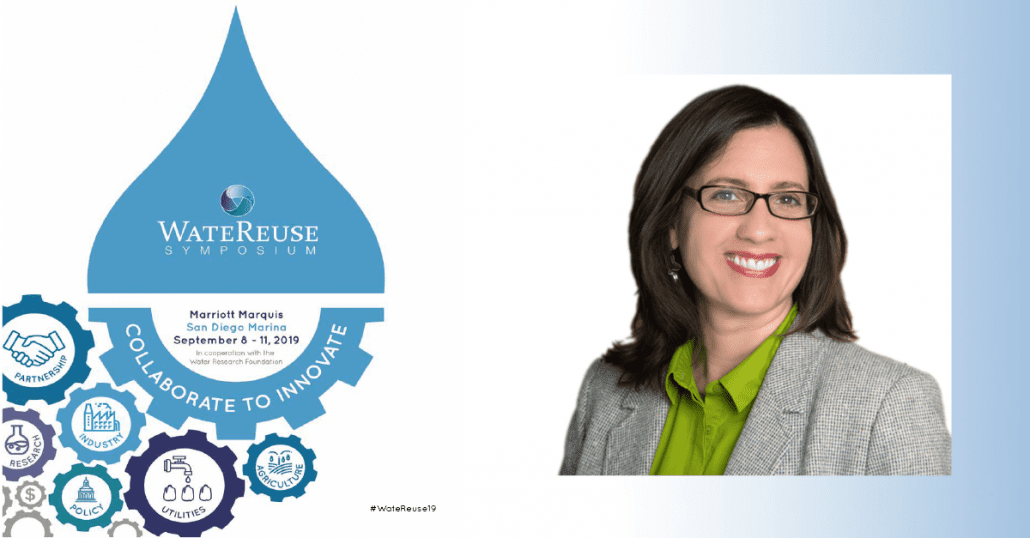 DBS&A Senior Engineer, Jennifer Hill, PE,  co-presented on advanced water treatment for aquifer recharge at the WateReuse Symposium in San Diego, California on September 10, 2019. The presentation was headed by Kevin Flis of Xylem, the treatment system manufacturer, and co-presented by James Chiasson, PE, the City of Rio Rancho's Public Utilities Director.
Presenters discussed the Advanced Oxidation Process (AOP) for wastewater treatment serving the City of Rio Rancho, New Mexico's Direct Injection Facility, including the results of pilot testing for reduction of contaminants of concern while controlling bromate formation, and results of the full-scale facility that has been in operation since 2017. The project's success supports the use of AOP as an alternative treatment train option for indirect potable reuse and aquifer recharge. Aquifer recharge represents part of a sustainable approach to managing the water resource portfolio of the City, helping to increase future water supply resiliency for the community.
DBS&A has provided planning, permitting, design and construction support to the City of Rio Rancho on the Advanced Water Treatment Facility for Direct Injection project since 2010. Presentation contributors include Kevin Flis, Xylem Water Solutions USA Inc. (primary author); Jim Chiasson and Stephanie DuBois, City of Rio Rancho; Wes Vote, Huitt-Zollars, Inc.; Salvador Dominguez, Xylem Inc.; and Richard Loeffler, EmNet, a Xylem brand.
Learn more about DBS&A's recharge, reuse, and recycling expertise.
https://www.dbstephens.com/wp-content/uploads/2018/11/DBSA_Official_Logo-w-Geo-Logic-Co-300x78.png
0
0
Shauna Brotz
https://www.dbstephens.com/wp-content/uploads/2018/11/DBSA_Official_Logo-w-Geo-Logic-Co-300x78.png
Shauna Brotz
2019-09-20 11:49:06
2019-10-04 13:00:02
Hill Co-Presents on "Bromate Control of Ozone Based Aquifer Recharge"