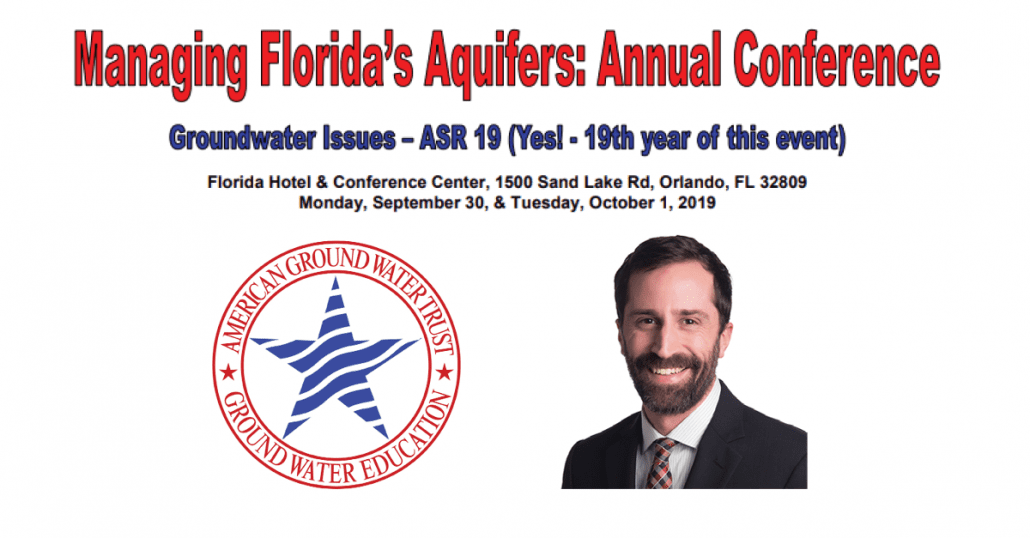 Managing Florida's Aquifers, the American Ground Water Trust (AGWT) Annual Florida Groundwater Program will be held in Orlando, Florida on September 30 and October 1, 2019. The conference will focus on important Florida groundwater issues. DBS&A's Principal Hydrogeologist, Gregory Schnaar, PhD, PG, will present on per- and polyfluoroalkyl substances (PFAS): Wide-Ranging Sources and Impacts to Water Supplies, in a special session focusing on the local and national magnitude of PFAS contamination intended for all water managers, scientists, engineers, and elected officials.
The PFAS special session will include:
Extent of contamination by PFAS compounds in Florida and the U.S.
PFAS concentrations and fingerprints in various materials
Forensic environmental analyses to identify contaminant sources
Equipment options for removal of perfluorinated compounds from groundwater
Microplastics in Groundwater, Carriers of Persistent Pollutants, including PFAS
Options for handling waste materials with PFAS
To learn more about the conference, click here.
https://www.dbstephens.com/wp-content/uploads/2018/11/DBSA_Official_Logo-w-Geo-Logic-Co-300x78.png
0
0
Shauna Brotz
https://www.dbstephens.com/wp-content/uploads/2018/11/DBSA_Official_Logo-w-Geo-Logic-Co-300x78.png
Shauna Brotz
2019-09-26 10:52:53
2019-10-04 12:59:18
Dr. Schnaar Presents on PFAS