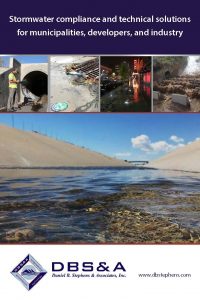 US EPA Region 6 and co-host Texas A&M University in Kingsville, in partnership with Albuquerque Metropolitan Arroyo Flood Control Authority (AMAFCA), Bernalillo County, South Sandoval County Arroyo Flood Control Authority (SSCAFCA), Municipal Separate Storm Sewer Systems (MS4s), and States in Region 6 are sponsoring the 2018 EPA Region 6 Stormwater Conference taking place from August 19 through 23, 2018 in Albuquerque, New Mexico. The conference theme is "Our Water, Our Future: Communication, Collaboration, and Adaptive Management for Improved Stormwater Quality."
DBS&A Hydrogeologist Chad Johannesen, PG, will be presenting on the Implementation of Microbial Source Tracking Program by the City of Albuquerque, and Environmental Scientist Julie Kutz will be presenting on the City of Albuquerque Illicit Discharge Detection and Elimination (IDDE) Program.
Click here to learn more on DBS&A's stormwater services.
Click here for more information on the conference.
https://www.dbstephens.com/wp-content/uploads/2018/11/DBSA_Official_Logo-w-Geo-Logic-Co-300x78.png
0
0
Shauna Brotz
https://www.dbstephens.com/wp-content/uploads/2018/11/DBSA_Official_Logo-w-Geo-Logic-Co-300x78.png
Shauna Brotz
2018-08-14 09:01:02
2018-08-14 09:01:02
DBS&A Presenting at 2018 EPA Region 6 Stormwater Conference